What is "Flatlay"?
If you haven't heard the term 'flatlay photography', don't worry, you'll probably recognise it when you see it. It's a style of photography where the picture is taken from a bird's eye view of a small curated scene: your breakfast, outfit of the day, your workspace, a current creative project, or something that just came out of the oven. Regardless of how effortless these images may appear, there's quite a lot of work that goes into getting just the right shot, arranging and rearranging items on a table until they have that 'totally natural' look about them. Ironic, isn't it.
Because it really is a major trend in the fashion, blogging and instagram world right now, its a fun and effective style of photography to explore, especially if you have a range of products you're looking to get noticed out there in the world.
To get the creative juices flowing, I thought I'd look at nine types of flatlay photography to inspire you.
1. Workspace Goals
We all have those #workspacegoals, and a significant amount of flatlay photography has to do with capturing that creative office vibe. It may also be because we're tied to our desks for most of the day! Here are a few tips when capturing your work area:
Keep it minimal, using black, white and pops of colour.
Don't forget your props: stationery, sun glasses, a cup of coffee, an open notebook, and it never hurts to throw a small potted succulent in there.
Arrange your desk goods neatly in a grid, or mess them up and stack stuff to create depth and height. Remember, good flatlay doesn't have to 'stay in the lines'.
If possible, get someone else (your work colleague, but maybe not your boss) to take the pic from above. That way you can get both of your hands in the pic.
Hint: Download the "The Clocks: Alarm Clock, World Clock" iOS app to get that retro black and white flip clock feature on your iPhone. Don't forget to switch off portrait mode when you use it in your flatlay.
2. Coffeegrams (Okay, and Teagrams)
Where to start? Tea and coffee are trending massively on visual platforms like Instagram and Pinterest. There are even hashtags dedicated to the art of capturing the perfectly arranged beverage. One of the most inspiring ones I've come across is #teaandseasons. Go and have a look! When it comes to taking the perfect coffee or tea (or matcha!) flatlay, here are few ideas:
Incorporate some flowers, like @jodianne_ does so beautifully.
Consider your background surface - wood, marble, coloured flat card, or concrete work brilliantly for an interesting background.
Don't be afraid to 'deconstruct' the shot, taking coffee cups off saucers, spoons out of containers and arranging the parts however you like.
A tip from @lidsharper, of Harper Supply Co...
3. Food
Flatlay photography is great for bakers, chefs, foodies of all kinds, food bloggers, and people who love eating. I guess that covers everyone. There are as many types of food flatlay photography as there are foods. There's the messy everyone-grab-a-burger overhead shots, the neatly-arranged-baked-goods-shot, the clean-minimal-fruit shot, the colourful-sliced-raw-food shots, the all-one-colour-food shots and more. Family and friends around the table at mealtimes are great food flatlay opportunities, and meal prep is another great moment to stop and get that perfect overhead image.
Some of my favourite food flatlay pics come from: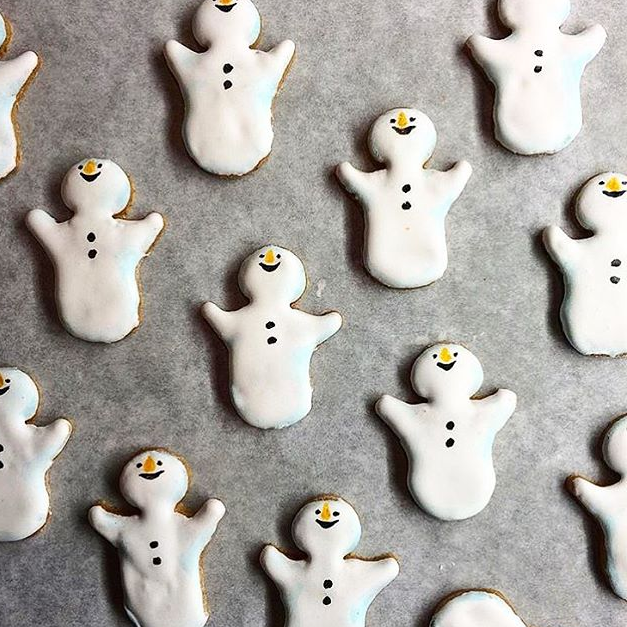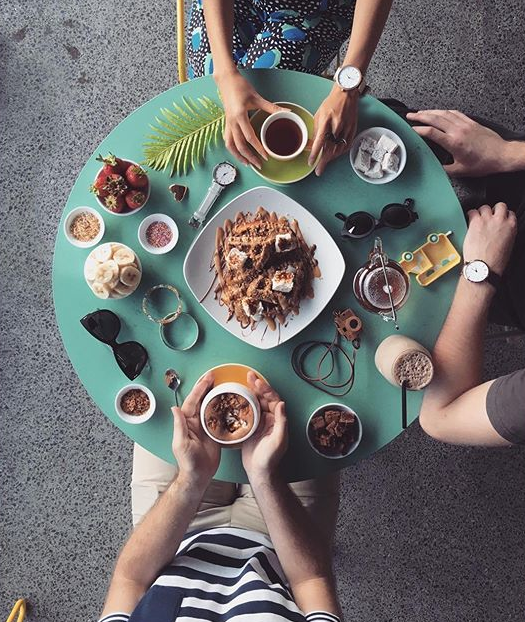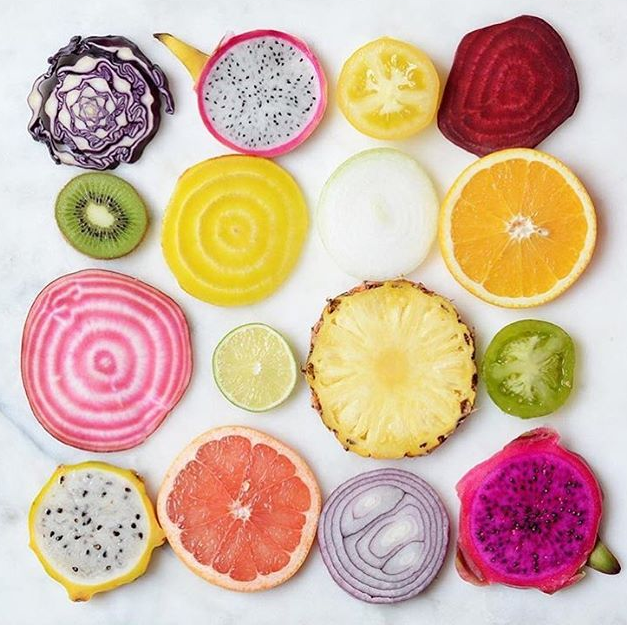 4. Mornings in Bed
I don't know about you, but I have never had such gorgeous looking mornings in bed. Mine are more of the messy hair, disaster zone type situations. But this is something to aspire to if you're a lifestyle photographer or if you want to showcase your: breakfast, coffee, outfits of the day, camera gear, notebooks, stationery, magazines, and home goods. Have a look at these beautiful flatlays below to get some inspiration for your own styled photography.
The scenes are typically made up of a range of goods laid out all over crisp and creased white sheets, with bare feet/socks, PJ's, and a fluffy cat!
Challenge: How do people manage to actually get these shots? Is there an Instagram Husband in the wings balancing from the headboard? Is there a selfie-stick that attaches to your head? Is there a camera dangling from the light fitting?
PS I don't have the answer to this question.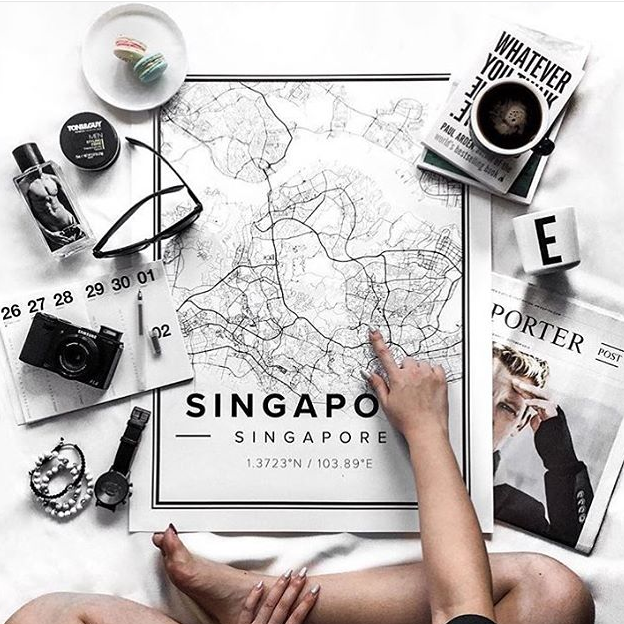 5. Monochrome/one colour
If you're short on ideas when it comes to flatlay photo options, why not go for the one colour to rule them all approach? Collect objects around your work space, house, office, or wardrobe that are all the same colour, and arrange them neatly. Voila! You've got yourself a brilliant flatlay.
I did this not so long ago with navy blue. For a while all I was seeing was blue, so I gathered all the tupperware, household ingredients, suncreams, shoes, and blue things and arranged them on a white cardboard background.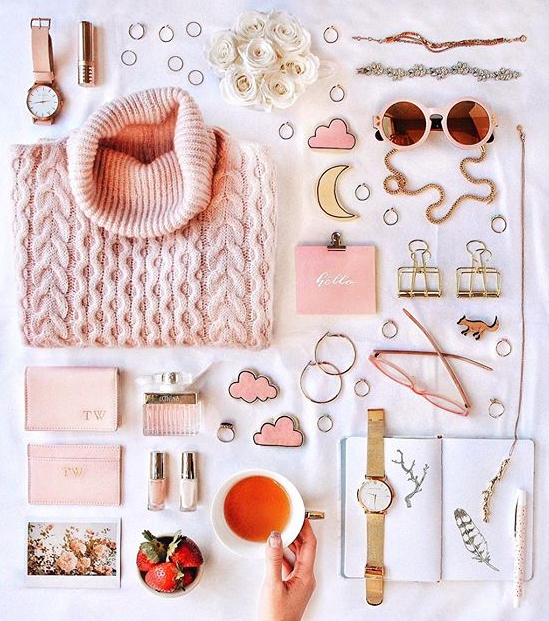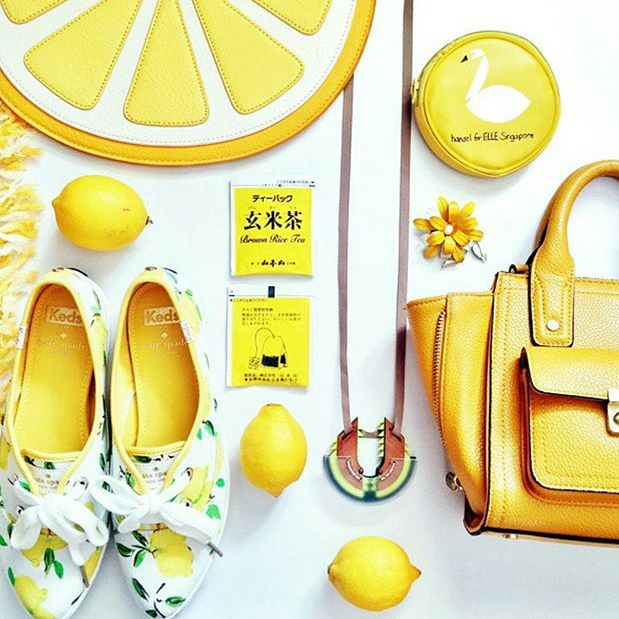 6. Outfit of the Day
Here's another idea for the lifestyle photographers out there, or for those of you whose products are in the clothing and lifestyle genre - an "outfit of the day" style flatlay. I didn't know until just recently that #ootd is the official hashtag for this topic. Arrange your outfit, accessories and shoes included, on a plain coloured card background and there you have it. This is especially popular in the world of men's fashion. You can go the fastidiously neat and organised way with this, or the messy crumpled 'couldn't care' way. Both work pretty well!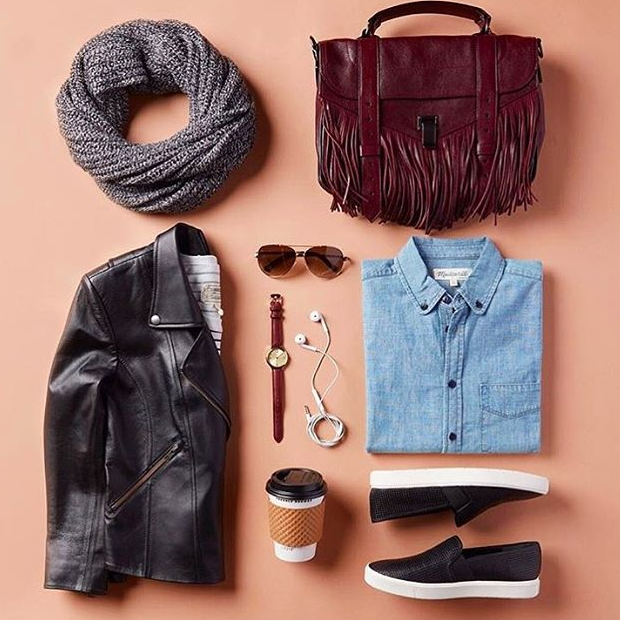 7. Bag Spill
Now here's something I had no idea existed until I some hashtag research on this topic. It has a name. And it is called the 'bag spill.' How great is that? The idea is to make it look as if everything literally fell out of your bag in an amazingly well-behaved sort of way. Watches, jewellery, sunnies, perfume, phones, make-up, hand-cream, you name it. If it is flowing out of your bag, its a #bagspill.
8. Things Organised Neatly
This has to be one of my favourite types of organised photography. And yes, it too has its own dedicated hashtag. Nobody does #thingsorganizedneatly (American spelling), than one of my favourite photographers, Emily Blencoe (@emilyblincoe). She takes found objects like driftwood, rubbish washed up on the beach, flowers, ingredients from her pantry, autumn leaves and so on, and arranges them thoughtfully and carefully into beautiful patterns.
But organising things neatly isn't just limited to what you found in your garden. Anything you're packing, or preparing for, or getting ready to do can be organised neatly into a nifty flatlay, from your camera gear before a big shoot, to your race gear before a marathon, to the contents of your bag on a weekend away.
Have a look through some of these images below to see what I mean.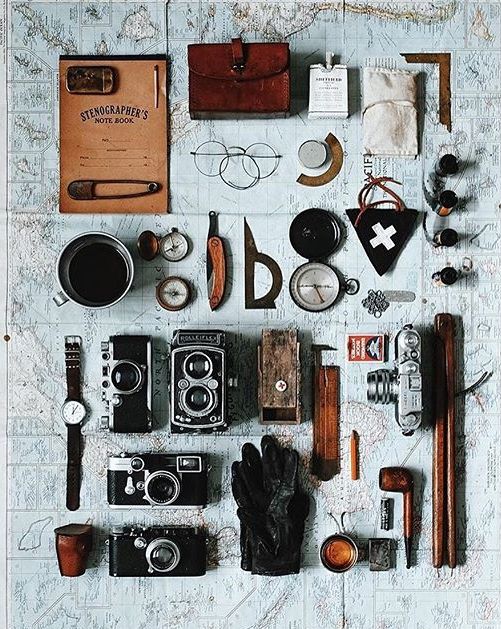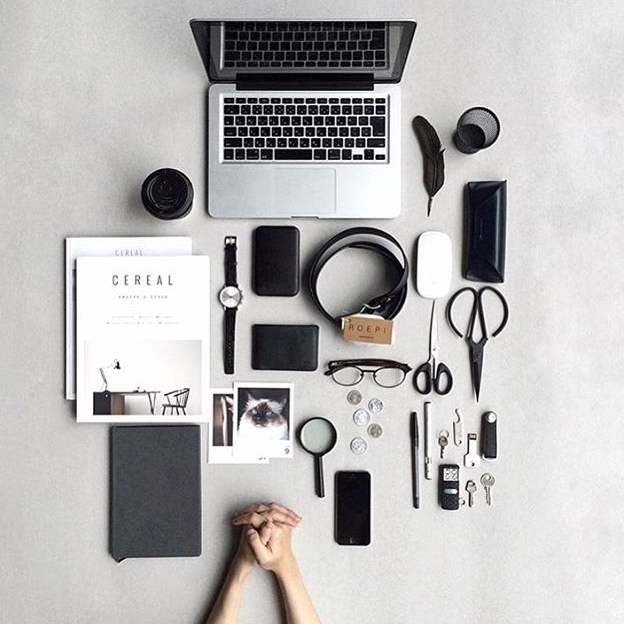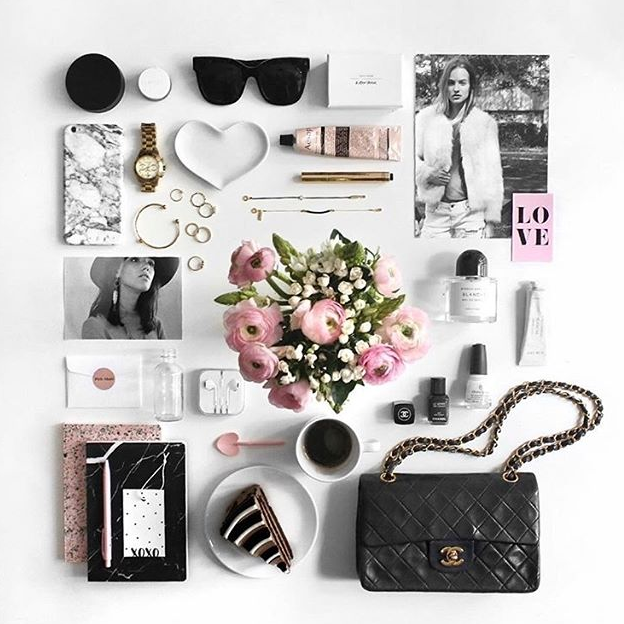 9. Patterns & Symmetry
If you've tried the 'things organised neatly' approach, and the 'bag spill' approach and you're still looking for more creative ways to arrange your baked goods/food styling/fashion/anything else, how about trying some repeating symmetrical patterns in your styling?
Lay your subject out in a circle, or in straight lines, diagonally or from top to bottom. Taking the photo from higher up (stand on a chair) gives you more room to play with, and you can fit more into the frame.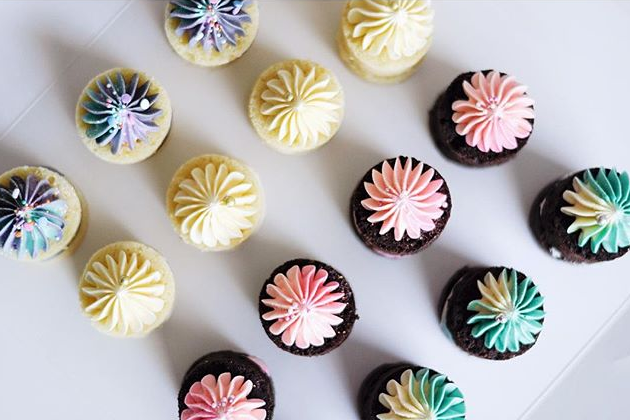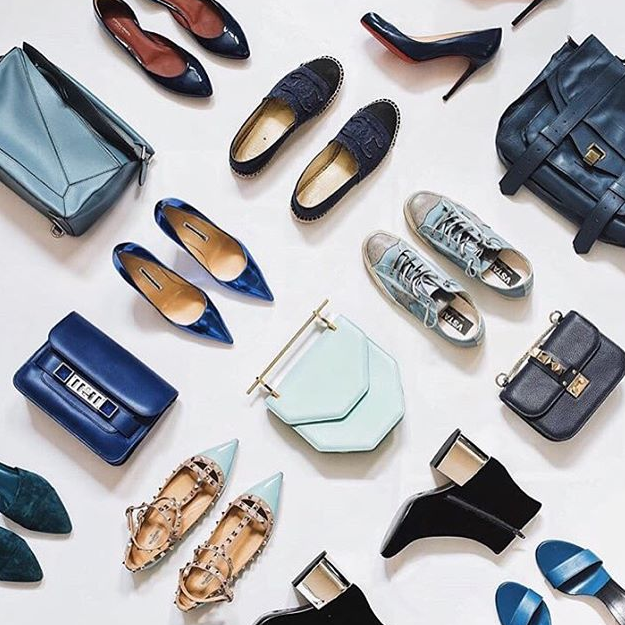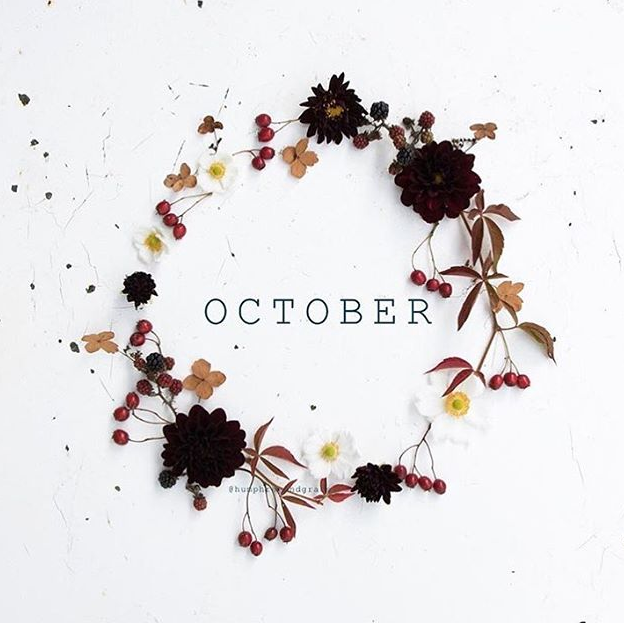 Now that we've looked at a few ways to work with flatlay, I thought it might be helpful to mention some flatlay hashtags.
Flatlay Hashtags
To provide further inspiration, as well as to give you a few hashtags to use when you post your own pics, here are a few flatlay related hashtags for you:
#theflatlaysquad #flatlay #flatlays #flatlay #fromabove #flatlayoftheday #theflatlaysquad #flatlaytoday #flatlayforever #flatlaythenation #flatlaystyle
My Favourite Instagram Accounts
And lastly, here are some of my all time favourite flat lay photographers on Instagram:
@5ftinf
@humphrey&grace
@jodieanne_
@missmay
@emilyblincoe
@1924us
Have you tried flatlay photography? And do you have any tips to share?