The process of preparing for your website, as in many other areas of life, is severely underrated. Preparation can make or break your experience of building a website. It can mean the difference between a smooth process and a headache-inducing one, between timeously met deadlines and (very) late nights, between an excellent, well-tested end product and a rush job.
Many people don't prepare for their website build, either because they don't know that they can prepare (believe it or not!), or because they don't know how to prepare effectively.
Here are seven ways that you can prepare for your Squarespace website build.
1. Pin down your business name
In the first few days and months of setting up your business there is so much to think about - what services you'll offer, how you will market yourself, how to manage the finance side of things, and who your ideal clients are.
And then you add to the list, "Get website done."
You do some research, find a web designer and book their services. By the time you get to your first web meeting, you might not even had time to pin down your business name!
Please don't overlook this crucial step - make sure this decision has been made. Decide on the whole name, whether that's Bob's Icecream Parlour, or just Bob's Icecream, or Bob's Gelato Pty (Ltd). While you're at it, check out if your business name is available as a domain (you can use godaddy.com or afrihost.com). And then go and see if your preferred social media account names are available as well, and book them right away.
Action Steps:
Finalise your business name in full

See if your preferred domain is available
2. Go in search of website inspiration
One of the easiest ways you can do this is to start a Pinterest board. Look for colours, ideas, fonts, palettes, images, subject matter, and photography styles that jump out at you. Remember that you're doing this for your business, and not for yourself. Even if your business has certain elements that reflect your own personality, try your best to see through the lens of 'what works for my business?'
Here's a look at the Pinterest inspiration board I put together when I was redesigning my own site.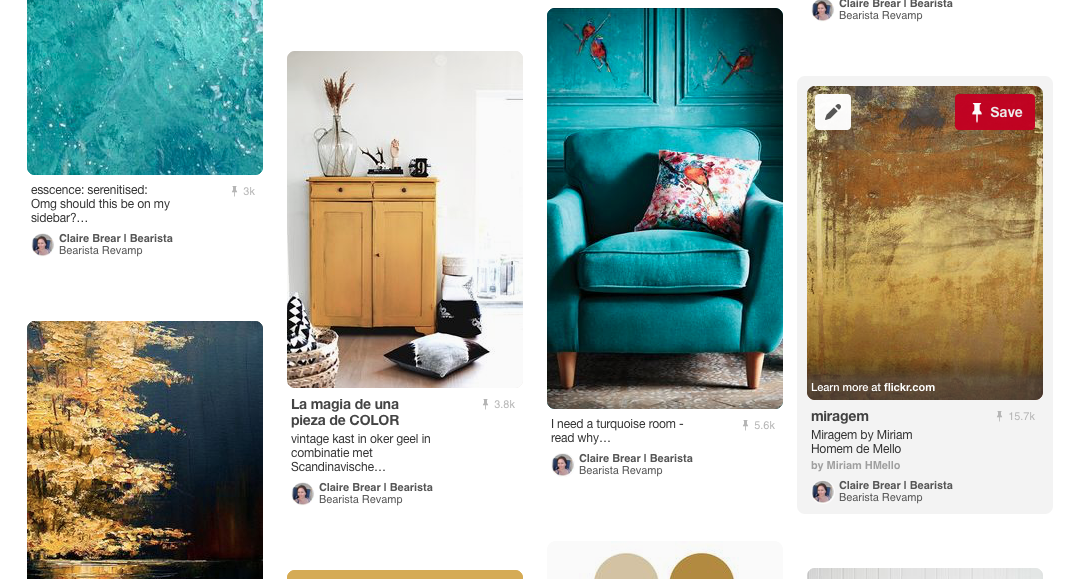 Action steps:
Open Pinterest (sign up or login here)

Start a new (secret) board and call it 'Business Inspiration'

Search for and save inspirational quotes that relate to your business values

Search for and save colour palettes (summer, spring, muted, bright, fun etc.)

Search for and save inspirational photography

Search for and save website design and layout

Search for and save design elements for your site

Search for and save fonts

Search for and save anything else that appeals to you and feels like a good fit for your business.
Bonus Step
You can also create a mood board in Canva to save all of this inspiration in one place. (Blog post on this coming soon.)
3. Do your website research
A really helpful step in the process of preparing for your website design is to begin to get your head around what kinds of websites you like that are appropriate to your industry. Start to really study the sites of your competitors, those of businesses that inspire you, or the sites of your peers and colleagues.
Action Steps:
1. Find three sites that you really like. Open up a Google Doc, create a table and begin to list specific things about the site that appeals to you. This could include:
Choice of fonts | Imagery & photos | Design elements | Size, width & dimensions | Colour palette | Layout: horizontal vs vertical | Animations & illustrations | Headers & navigation | Flow of information | Footers | Social icons & buttons | Tone of voice | Writing style | Amount of content
2. Now find three sites you don't like and list those things that you wouldn't want on your own site.
4. Get any design work done
You may have already had a logo and/or branding done. If this is the case, gather all your high res logo files together in one place so that you can hand them over to your web designer when the time comes. Your web designer will typically want to use your logo on your site, and the most helpful version is a .png file because of its transparent background.
Action Step:
If you've already had your branding and/or logo designed, gather these files into one place:
Logo .png files

Logo .jpeg files

Dark version of logo

Light version of logo

Any submarks

Any design elements (icons etc.)

Brand 'bible'
If you haven't had any design work done you'll want to get some done pronto. It is advisable to do this before you do your website. The reason is that a logo acts as the cornerstone of your business, a passion project, or NGO. When you go through a branding and design process, you will identify certain values, principles and guiding tenets of your brand, frame the personality of your brand, and flesh out how that can be portrayed visually.
All of this critical information is translated into visual elements such as symbols, fonts, a colour palette, your logo, icons, other branding elements, and even a 'brand bible'. When this process is completed before your website build, it provides a really solid, sturdy framework for your web designer to start from. It results in a coherent look and feel to your business where all the elements tie together neatly.
If you haven't already done this, don't panic. Many web designers do branding and graphic design in addition to their web design work - it's a great skill set combo and fairly common to find. And if they don't, they often have preferred designers they are already in partnership with.
Action Step:
Ask your web designer to refer you to their preferred graphic designer.
5. Gather your images
Another really practical way you can begin to prepare for your website build is to gather the images you will need for your website. They might include some (or all) of the following:
Profile/bio photos

Team/staff photos

Banner images

Product images (if you have an online shop)

Gallery images

Examples of work/services
You might also want to think about getting some current professional headshots done. If you're a business coach, blogger, lifestyle coach, medical professional, legal or finance professional with your own business, having a current, professional headshot is a good way to go. It helps your clients get a sense of who you are, helps them connect with you in an otherwise purely online world, and builds trust. It introduces them to your world (office, practice) and gives them some context for your business.
Action Step:
Make some photography enquiries of professional photographers in your area, compare pricing packages, and book that shoot.
If you don't know where to start, consult your web designer. Again, they most likely have connections with professional photographers they know and trust and can recommend whole heartedly.
6. Start to craft your content
No content, no website.
It's as simple as that.
Content is made up of visual content and text-based content (or copy). Visual content is all your images and design work, which we've already covered. Text-based content includes your:
Home Page: introduction, who you are, what you do in brief

About page: about your business, the story, context and history. Why you exist and how you came about.

Your Services/Offerings: what you actually do and how that is packaged. Is it one service, or a few,? What are the headings and explanations?

Your Blog: journal, lessons, news, articles. Do you have topics and themes?

Contact info: how to get hold of you

Terms and Conditions

Frequently Asked Questions

Calls to Action: what you want people to do on your site

Stand Out Copy: quotes, inspiration, headings and headlines

Testimonials
Action Step:
Open a new Google Doc, create headings for each of your content sections, and start to write and gather the content you'll need for your site. Every time you find new information, or get further insight, come back and add that to the document.

7. Consider your social media and add-ons
Have you thought about whether you're going to use any social media platforms to market your business online? If so, have you considered which platforms to use? Here are some ideas to get you thinking.
Facebook: great for building community, sharing news, running contests, running paid ads.

Instagram: excellent visual platform great for photographers, designers, online shops owners.

Pinterest: another highly visual and searchable platform.

Twitter: suits businesses, journalists, writers, and coaches well.

YouTube: for instructional, inspirational, vlog related content.

LinkedIn: for the more traditional professions.
If you've already signed up for these, make sure you have all your passwords, usernames, and logins handy in one place so that you don't have to go scurrying around to find them when the time comes to hand them over to your web designer - they'll need all this information if you want to integrate your social media with your site.
Action Steps:
Open a (nother) Google Doc and make a table that looks like this. Add the platform concerned on the left and all the login details on the right.
I hope this post has been helpful and will spare you the headache of the last minute scurrying to prepare for your website build! If you'd like even more detail on:
how to prepare your content,

how to choose between using stock photography or booking a photographer, and

how to start preparing your site structure,
you're welcome to download this free worksheet to guide you.
You may have been thinking about having your website built for some time now, but just needed that extra nudge to get working on it. If you'd like to find about my rates or book a Squarespace website build with me, I'd love to chat to you.
I've just started a Squarespace blog series! You can read more blog posts on this topic below.